Biden Beating Trump in Texas?
May 12, 2020
Unbelievable.

Just as they did with Crooked Hillary, the gun-hating liberal media is using an unscientific poll to energize their base to try and flip Texas "blue" in November.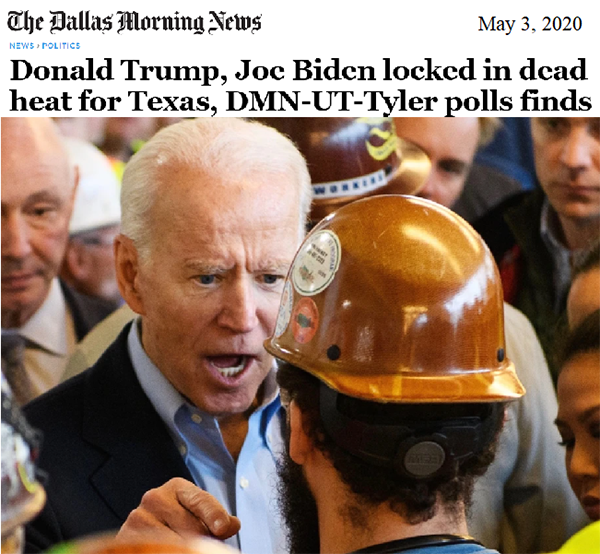 Worse, the Gun Control Lobby is doubling down on their efforts to help Biden and anti-gun Democrats take over Texas…just like they did in Virginia!

"[We] made an example of [Virginia Republicans] and we intend to do the same in Texas..." Charlie Kelly, "Everytown For Gun Control"

According to the Texas Tribune, gun ban extremists from Everytown, Brady PAC and the Giffords gun control group are spending nearly $10 million to make Texas an anti-gun battleground state.1

In total, anti-gun Democrats and their out-of-touch financers are projected to spend over $200 million trying to buy control of Texas during the 2020 elections.

Make no mistake about it, Patriot...enemies of the Second Amendment won't stop until they eradicate your gun rights once and for all.

That's why I'm hoping you'll help us fight back with a contribution today!

Patriot, TXGR is on the frontlines fighting back against gun-ban politicians and their puppet masters, protecting your right to lawfully use firearms in defense of your life and your loved ones.

And no other organization can mobilize grassroots, gun-owning voters to DEFEAT Gun Control Inc. and save our firearm freedoms in an election like TXGR.

But our strength to FIGHT and WIN comes from YOU.

Unlike the Left, we can't depend on the "Fake News" media to look out for the best interest of Texans.

They are funded by Bloomberg's millions and have become nothing more than the public relations wing of anti-gun Democrats.

That's why I hope you'll help us spread our message to more pro-gun Texans by doubling your support with at least $20 today.

We must come together now so we can counter the anti-gun onslaught we are facing in 2020.

We can't let Texas become the next Virginia.

With a critical election year at hand, we are asking all of our most loyal supporters to go above and beyond with their most generous donation.

But if that's too much, even $20 or $10 will help TXGR mobilize more pro-gun Texans before November.

Don't wait! STAND and FIGHT with TXGR today!

For Texas and Liberty,



Chris McNutt
Executive Director
Texas Gun Rights