BREAKING NEWS >>> Constitutional Carry will become law!
June 16, 2021
With a stroke of his pen, Governor Greg Abbott signed HB 1927, which means Constitutional Carry will go into effect on September 1st of this year!
After years of hard work and a session filled with obstacles from the Senate, Texas will finally become the 21st Constitutional Carry state!

This wouldn't have been possible without the steadfast support of TXGR members and supporters like you.

For the past 8 years and 4 legislative sessions, Texas Gun Rights members and supporters have been leading the charge on making Constitutional Carry the #1 gun rights issue in the state of Texas.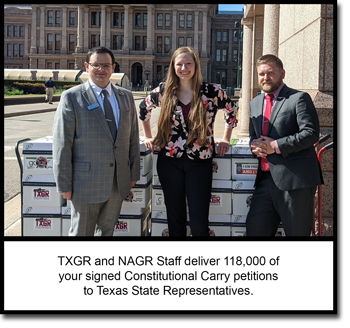 Since 2013, we've spent nearly two million dollars linking the legislative session to the election season, ensuring ALL legislators and candidates knew pro-gun Texans expected nothing less than Constitutional Carry.

After mobilizing gun owners through mail, email, text messages, digital ads, radio ads, and even TV ads, no other group has come close to matching our firepower in Texas. Period.
And it's helped us tear down the persistent roadblocks thrown up by the Austin political establishment.

For example, in 2015, State Representative Jonathan Stickland helped us launch the fight for Constitutional Carry in Texas by filing HB 195 — the first ever Texas Constitutional Carry bill filed in the Lone Star State!

Sadly, HB 195 never received a hearing thanks to anti-gun Speaker Joe Straus.

After bruising primary elections in 2016, we went back to Austin in 2017, and Constitutional Carry HB 375 was given a public hearing by the Homeland Security and Public Safety Committee…but the political establishment ran out the clock and it never got voted out of committee.

During the 2018 elections, we put Constitutional Carry at the forefront of political debate as Beto-supporting anti-gunners tried riding his coat tails into political office.

In 2019, the fight reached a boiling point when TXGR exposed then "Republican" Speaker Dennis Bonnen as the man killing Constitutional Carry HB 357 behind closed doors.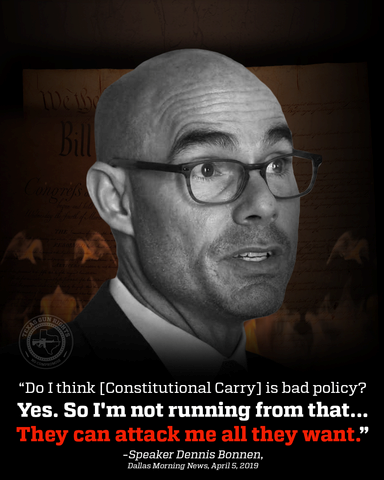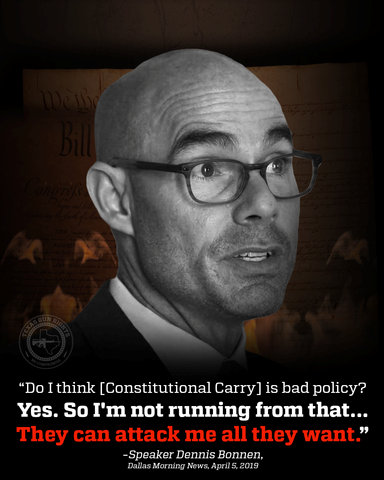 Year after year, we were making progress and exposing the anti-gun hacks in the political establishment until they realized they could no longer take the heat for killing Constitutional Carry.

So after Rep. Kyle Biedermann decided to carry the torch for gun owners by filing Constitutional Carry HB 1238 this year, something different happened: multiple Constitutional Carry and "permitless carry" bills were filed as politicians scrambled to prove their pro-gun chops to the grassroots.

House leadership ultimately gave Representative Matt Schaefer the nod to advance his version of permitless carry with House Bill 1927.

After working with Representative Schaefer — and Representatives Bryan Slaton, Jeff Cason, and Kyle Biedermann — TXGR was able to make HB 1927 a strong Constitutional Carry bill with amendments on the House floor.

The establishment was clearly shocked when it reached the Senate, something nobody thought would ever happen.

At every turn, Lt. Gov. Patrick tried preventing the passage of Constitutional Carry by using deceptive tactics such as filing alternate bills (SB 2224), instead of advancing HB 1927.

But once pro-gun Texans saw through that ruse as an effort to run out the clock, he quickly advanced HB 1927 with "poison pill" amendments meant to run afoul of House rules and kill the bill on a technicality.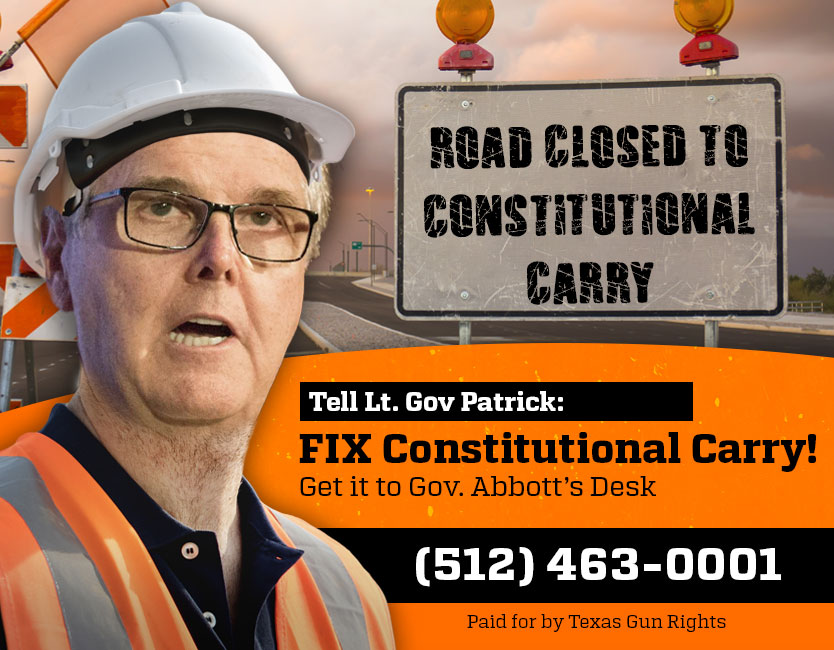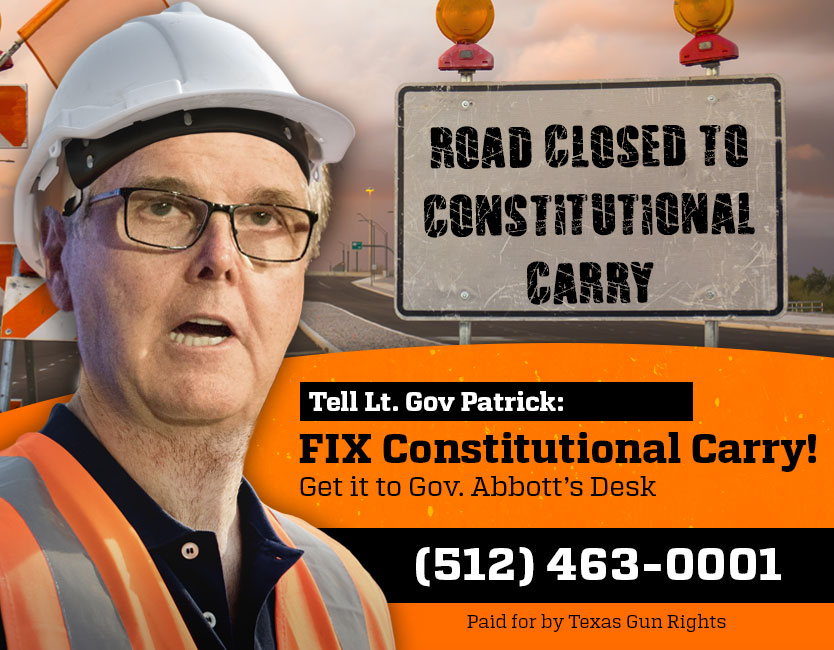 But pro-gun Texans made sure all elected officials knew there would be no excuses for killing Constitutional Carry yet again.

So the House and Senate worked out their differences in conference committee and got the bill to Governor Abbott's desk.

Of course, Lt. Gov. Patrick is attempting to rebrand himself as a pro-gun hero who helped advance Constitutional Carry…

But pro-gun Texans know it was ONLY because of YOUR activism that we tore down Patrick's roadblocks and forced him to do right by gun owners!

Now, we get to call Texas the 21st Constitutional Carry state!

As exciting as this is, our work is not done.

When the legislature reconvenes in two years, we must expand the new Constitutional Carry law by ensuring ALL law-abiding Texans are treated equally under the law.

For example, military-aged Texans under 21 will still not be able to carry their handgun under HB 1927.

This leaves thousands of young men and women defenseless, preventing many young parents from protecting their children. This must be fixed.

Law-abiding Texans visiting or living on college campuses were also left out of HB 1927, and must still obtain a license to carry on top of the red tape from their college campus.

Additionally, lands owned by the Lower Colorado River Authority (LCRA) will also still require an LTC to carry a handgun on their land.

Licenses shouldn't grant special privileges. Ultimately, ALL law-abiding individuals should be allowed to carry in areas where LTC holders can carry.

That's why I hope you'll make your most generous contribution to Texas Gun Rights to help us continue fighting for gun owners in Texas!

I want to be very clear: even though these aspects of the law still need to be changed to make a stronger Constitutional Carry law, HB 1927 is a tremendous victory for gun owners in Texas.
In fact, it's the biggest gun rights victory in state history!

Thanks to your steadfast support, law-abiding Texans 21 and older will now be able to defend themselves and their families without a government permission slip or paying a tax once the law goes into effect this September.

Thank you for your massive effort in the fight for Constitutional Carry in Texas!

For Texas and Liberty,


Chris McNutt
Executive Director
Texas Gun Rights