Tell Governor Abbott to sign it!
May 24, 2021
Constitutional Carry will soon become a reality in the Lone Star State!

After a nearly decade-long fight against the political establishment, Constitutional Carry is finally on its way to the desk of Governor Greg Abbott.

The finish line is within our grasp, but we must not celebrate quite yet…

Governor Abbott is facing immense pressure from anti-gun forces to veto this pro-gun legislation.

That's why it's critically important Governor Abbott knows you support Constitutional Carry right away!

Please call Governor Greg Abbott at (512) 463-2000 and encourage him to sign HB 1927 and make Texas the 21st Constitutional Carry state.

With the stroke of his pen, the Texas Constitutional Carry law would go into effect on September 1st!

The good news is, Governor Abbott already vowed to sign Constitutional Carry into law as soon as it reaches his desk.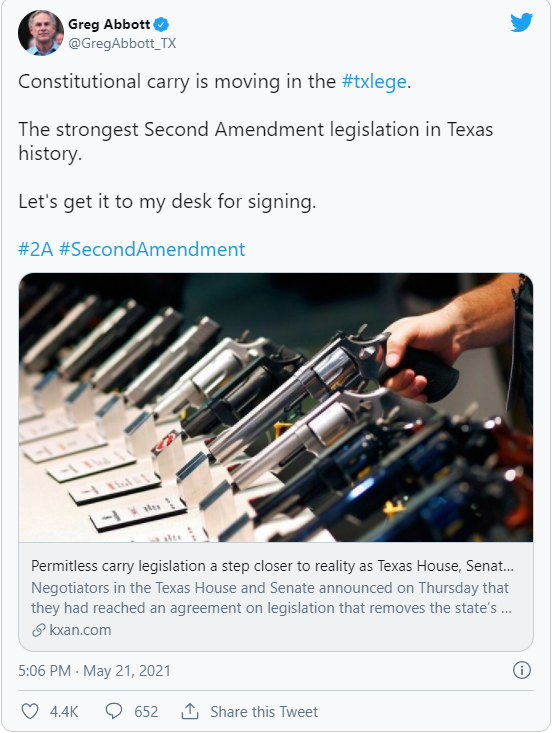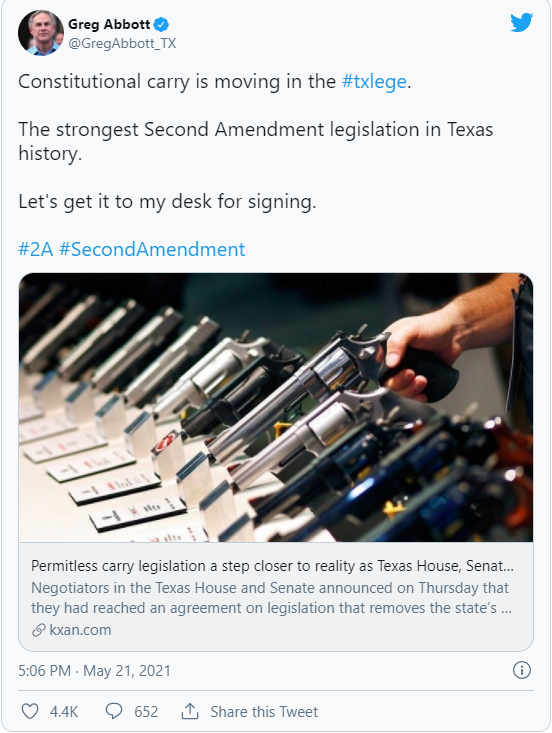 Now, we must make sure he delivers on his promise.

So please call Governor Abbott to help Texas Gun Rights finish the fight!

With your continued support, we WILL make Texas the 21st Constitutional Carry state!

Thank you for everything you continue to do.

For Texas and Liberty,

Chris McNutt
Executive Director
Texas Gun Rights